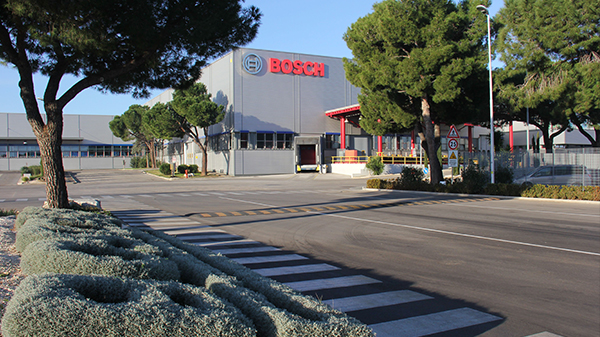 BOSCH
The Bosch Group is a leading global supplier of technology and services. It employs roughly 400,000 associates worldwide (as of December 31, 2019). The company generated sales of 77.7 billion euros in 2019. Its operations are divided into four business sectors: Mobility Solutions, Industrial Technology, Consumer Goods, and Energy and Building Technology. As a leading IoT provider, Bosch offers innovative solutions for smart homes, Industry 4.0, and connected mobility. Bosch is pursuing a vision of mobility that is sustainable, safe, and exciting. It uses its expertise in sensor technology, software, and services, as well as its own IoT cloud, to offer its customers connected, cross-domain solutions from a single source. The Bosch Group's strategic objective is to facilitate connected living with products and solutions that either contain artificial intelligence (AI) or have been developed or manufactured with its help. Bosch improves quality of life worldwide with products and services that are innovative and spark enthusiasm. In short, Bosch creates technology that is "Invented for life." The company was set up in Stuttgart in 1886 by Robert Bosch (1861-1942) as "Workshop for Precision Mechanics and Electrical Engineering." The special ownership structure of Robert Bosch GmbH guarantees the entrepreneurial freedom of the Bosch Group, making it possible for the company to plan over the long term and to undertake significant upfront investments in the safeguarding of its future.
Bosch Bari is part of the Bosch Group since 1994 with the foundation of Tecnologie Diesel Italia S.p.A. In 1997 started the production of the first Common Rail system for passenger cars. Since then the production has been differentiated in the fields of feeding systems for gasoline engines, manufacturing of components for hydraulic systems and since 2020 with the production of drivetrain's components of the Bosch eBike Systems.
Following the decades-longer collaboration with the Polytechnic of Bari (POLIBA), Bosch Bari – Tecnologie Diesel S.p.A. in 2019 entered the IE3 project. By this partnership, Bosch offers its knowledge and industrial culture for the evolution of the Erasmus programs. In order to improve the synergies between the academic training offer with the request of modern manufacturing companies, Bosch lets the young industrial engineers to be prepared to pick up the challenges of the modern industry.