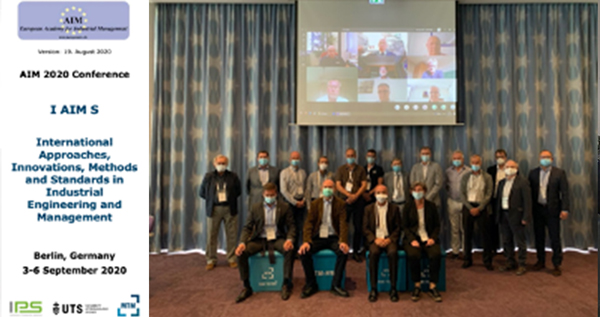 Prof. Giovanni Mummolo contributed in the IE3 dissemination activities by attending the 42nd Conference of the European Academy for Industrial Management (AIM) held in Berlin on 3-6 September 2020. The Academy is associate partner if the IE3 project and contributed in the surveys on higher education on Industrial Engineering and Management offered at Master level as well as on the demand of higher both HEIs and companies related to universities represented in AIM. All academic partners of the IE3 project are represented in AIM.
Prof. Mummolo had an invited presentation entitled:
'A European Survey on Higher Education in Industrial Engineering and Management: Preliminary Results'.
First results on the qualitative and quantitative surveys were presented and discussed. The survey reached 113 professors from 64 Universities of 21 Countries, 75 companies located in 20 different countries, more than 500 of IE&M Students and Alumni from all over the Europe. The role of ESTIEM, the European Students of Industrial Engineering and Management revealed significant in spreading the questionnaires.
The Conference attendees from Universities, invited Companies and ESTIEM VP-education, both in presence and in remote (see picture), actively participated by discussing the research findings and providing insights to the future steps of the IE3 project.