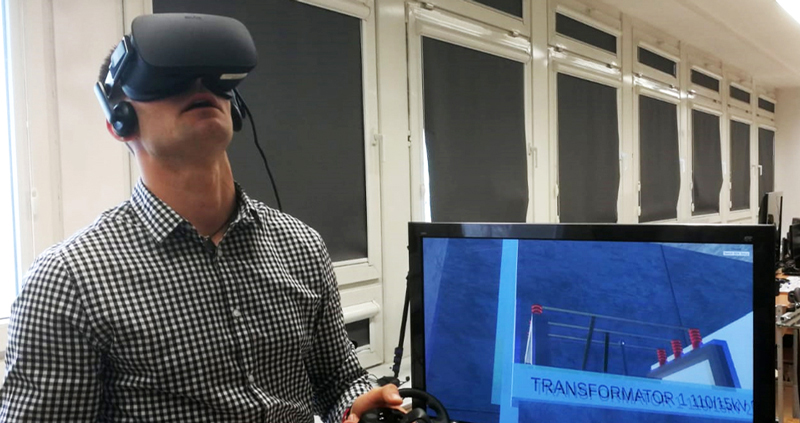 Virtual reality is a slogan that appears more and more often in the context of industry, in particular training of operators, technicians and service technicians. Polish companies also use VR technology, an example of which is the project currently implemented by Enea Operator in cooperation with the Poznan University of Technology and the Poznan University of Economics and Business.
The aim of the research and development project is to create a system based on the use of virtual reality (VR), the purpose of which will be to increase the competences of Enea Operator's technical staff. It is supposed to be an innovative use of VR in the power industry, one of the first in Europe implemented on such a large scale.
The developed technology will enable employee training through a special VR application that is created and configured according to the company's needs. The project also provides for the development of the application and its subsequent updates. After putting on the virtual goggles and special controllers, the electrician will move inside a three-dimensional digital model, reflecting, for example, the Main Power Point (GPZ) or a medium voltage to low (MV / LV) transforming station, in the same way as it does in the world real. VR technology will enable technical services to safely test theoretical knowledge in practice.
The project implementation involves the implementation of interactive training scenarios for fifteen selected substations and ten medium voltage stations. The training center of Enea Operator in Łagów in Poland, where there is a "training ground" for learning the methodology of live works, will also be mapped in virtual reality.
An important feature of the virtual system is its flexibility, consisting in the use of 3D scans enabling the extension of the content with new training scenarios and infrastructure objects. In addition, the system during the training will be able to simulate unusual situations on electrical power devices, which technical services cannot practice in the real world. The introduction of a modern system using the technology of three-dimensional real scans will facilitate maintenance and investment works by Enea Operator's technical services.
The project of implementing the "Flexible system for increasing the competences of technical service employees using virtual reality techniques" is co-financed from EU funds under the Research Program "Fast path for large enterprises and consortia" implemented by the National Center for Research and Development. The total budget of the project is PLN 6.4 million, including PLN 3 million in subsidies and includes the costs of industrial research and development works.