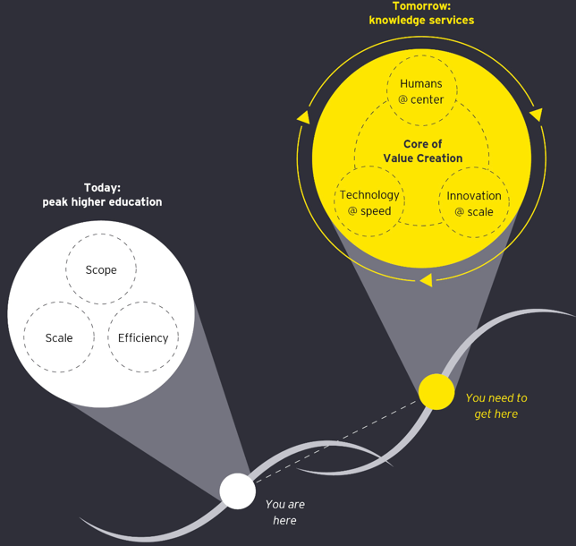 Courtesy: Ernest & Young
European industry is considered a key driver in the economic and societal transitions for the European society, and in order to remain the engine of prosperity, industry must lead the digital and green transitions. Therefore, the European Commission established in early 2021 its vision on the path choice for the evolution of the European industry behind the Industry 4.0 paradigm, mainly adopting a human-centric approach for digital technologies including artificial intelligence and up-skilling and re-skilling European workers, particularly digital skills. All must be done within a sustainable environment fostering the circular economy concept.
Industry 5.0 will require higher education institutions stakeholders in newer and more diverse roles like sophisticated researchers, innovators and knowledge workers. The time of human-machine collaboration will require new forms of work design and new ways of talent mix in the higher education industry. It is very important for millennials and Z generation people to choose the right career path which matches the future skillsets required by Industry 5.0. AI will play a top-five investment priority for more than 30 per cent of CEO and AI technologies will be in almost every new software product in the future according to Gartner estimations.
Based on this perspective, approaches such as IE3 master design methodology is even more needed than ever, where integration to different stakeholders in the process become essential.
Written by UPM team